製品説明
Based on the well-acknowledged model Foxwell NT644 pro, AutoMaster NT644 pro is a new model which provide for workshops, technicians and enthusiasts alike affordable professional diagnostic solutions and more special functions, especially DPF, TBA/TPS, and battery configuration, it stands out in a variety of similar tools by delivering wider coverage of vehicles, more accurate diagnosis, more reliable performance and better user experience.
FOXWELL NT644 PRO Full System OBD2 Scanner ABS SRS AT DPF EPB Oil Reset Diagnostic Tool ODB2 OBD Professional Automotive Scanner Standard Version
Foxwell NT644 Pro Automotive Diagnostic Tool Features and Benefits:
1. Provides easy diagnosis on more than 61 American,Asian and European vehicle makes.
2. Works on both OBD I and OBD II cars,SUVs,minivans,light-duty trucks sold worldwide,including the latest 2015/2016 models on selected makes.(For OBDI Vehicles need with OBD1 connector, you can choose FULL VERSION)
3. Reads and clear codes and turns of MILs of all controllers.
4. Supports the most commonly used services including oil reset,EPB,BRT,DPF and TPS/TBS.
5. Identifies the vehicle you are testing rapidly and accurately on the basis of its VIN number.
6. It shows live vehicle sensors data in text and graph format and allows you to focus on any suspicious or symptom specific data.
7. You can view 2 parameter graphs simultaneously and merge them into one coordinate,so you can easily see how they affect each other,providing you with the most comprehensive and functional look at live data possible.
8. With Internet access,you will always have the latest bug fixes,new vehicles,newly added parameters and functionality at your fingertips.And they are free forever .
9. Clearly arranged keypad,menu-driven operation,shortcuts and impressive 4.3inch color display together make the series extremely easy to use.
10. It is constructed to resist impact and damage in the tough workshop environment.A rubberized sleeve protects our investment.

11. Life time free upgrade online.(With Internet access,you will always have the latest bug fixes,new vehicles,newly added parameters and functionality at your fingertips.And they are free forever.Simply install the SD card into your computer or an SD card reader,log into the PC appliation,and click update.The application does all the work,syncing the latest software to your tool.)
Foxwell NT644 PRO All System Scanner with Special Functions:
1. Engine Check
2. Transmission
3. ABS, Antilock Brake System
4. SRS, Airbag, service helps clear the fault Airbag memories to reset
5. AT/CVT, Continuously Variable Transmission
6. SAS, Steering Angel Sensor, clear the fault steering angle sensor memories
7. EPB, Electronic Park Brake System
8. DPF, Diesel Particulate Filter
9. OilReset, Oil Light Service Reset, reset for a new calculation of Engine Oil Life system once changed the oil
10. TBA/TPS , Throttle Body Alignment
11. BRT, Battery Replacement Reset, adapt the new battery to ECU work properly
12. Injector Coding
13. TPMS, Tire Pressure Monitoring Sytem, reset your TPMS more safe and concise
14. Gear Learn, allow to relearn the communication of gear position information.
15. Odometer ,Exchange Odometer
NT644 PRO Support Car list
USA COVERAGE
For Chrysler,Ford,GM,Brazilian GM,
ASIAN PACIFIC COVERAGE
For Acura,Daewoo,Honda, Hyundai, Infiniti,Isuzu,Kia,Lexus, Mazda,Mitsubishi, Nissan,Perodua,Proton,Scion,Subaru, Suzuki,Toyota
EUROPEAN COVERAGE
For Audi, Bentley, BMW, Bugatti, EU Ford, Jaguar,Land Rover, Maybach,Mercedes Benz, Mini,Opel,Porsche,Rolls-Royce,Saab, Seat,Skoda, Smart,SPrinter,Vauxhall,Volvo, Volkswagen
FRENCH & ITALIAN COVERAGE
For Abrth. Alfa-Romeo,Citroen,Dacia,Fiat,Lancia,Maserati, Peugeot,Renault
CHINESE COVERAGE
For Briliance,BYD,Chery, Geely,Great Wall, Karry,Rely, Riich
Foxwell NT644 Pro Automotive Diagnostic Tool Support Languages:
The device only can include 2 language , one is English , the other one you can choose from the following :
Korea, Spanish, Portuguese, French, Thai, Hungarian, Swedish, English, Dutch, Japanese, Italian, Russian, German


Foxwell NT644 Pro Automotive Diagnostic Tool Specifications:
Display: Backlit, 480*272 TFT color display
Working Temperature: 0 to 60℃ (32 to 140℉)
Storage Temperature: -20 to 70℃ (-4 to 158℉)
External Power: 8-18 Volts powered by vehicle battery
Dimensions: 200*130*40mm (L*W*H)
Blow molding case: 330*220*80mm (LWH)
Weight: 1.7KG / 3.0KG

Product Display: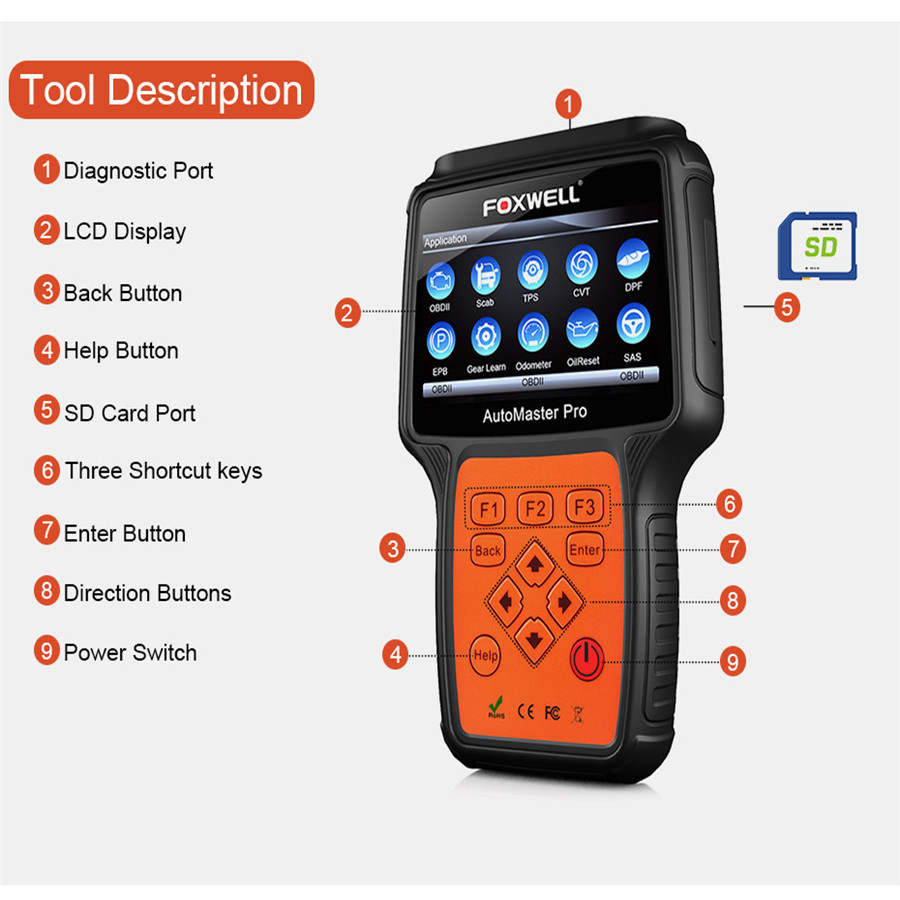 お問い合わせ
何か質問があれば、 お気軽にお知らせください。
Live Support:
オンラインチャット
E-Mail:
sales@jobdii.jp
Skype:
jobdii.jp
ご注意ください:
製品を安全に送るために、電話番号が必要です。ご注文する時、電話番号を教えてください。
また、製品が無事に保証するため、パッケージに署名する前に、損傷があるかどうかを二重にチェックしてください。
もし、商品は損傷があれば、損傷を受けた証拠を開いてください。
Attention:

please leave your telephone number for shipping arrival when you make payment for this product on our website.