製品説明
NexzDAS Lite Diagnostic Tool breaks the traditional limitations with the modality of VCI+APP. Working together with Android phones, NexzDAS will bring convenience and improve diagnosis effeciency. It offers the perfect diagnostic solution for shops and technicians who demand unrivalled smart technology and smart repairs.
HUMZOR NexzDAS Lite Full-System Bluetooth Diagnostic Tool for Android (Special Functions Enabled)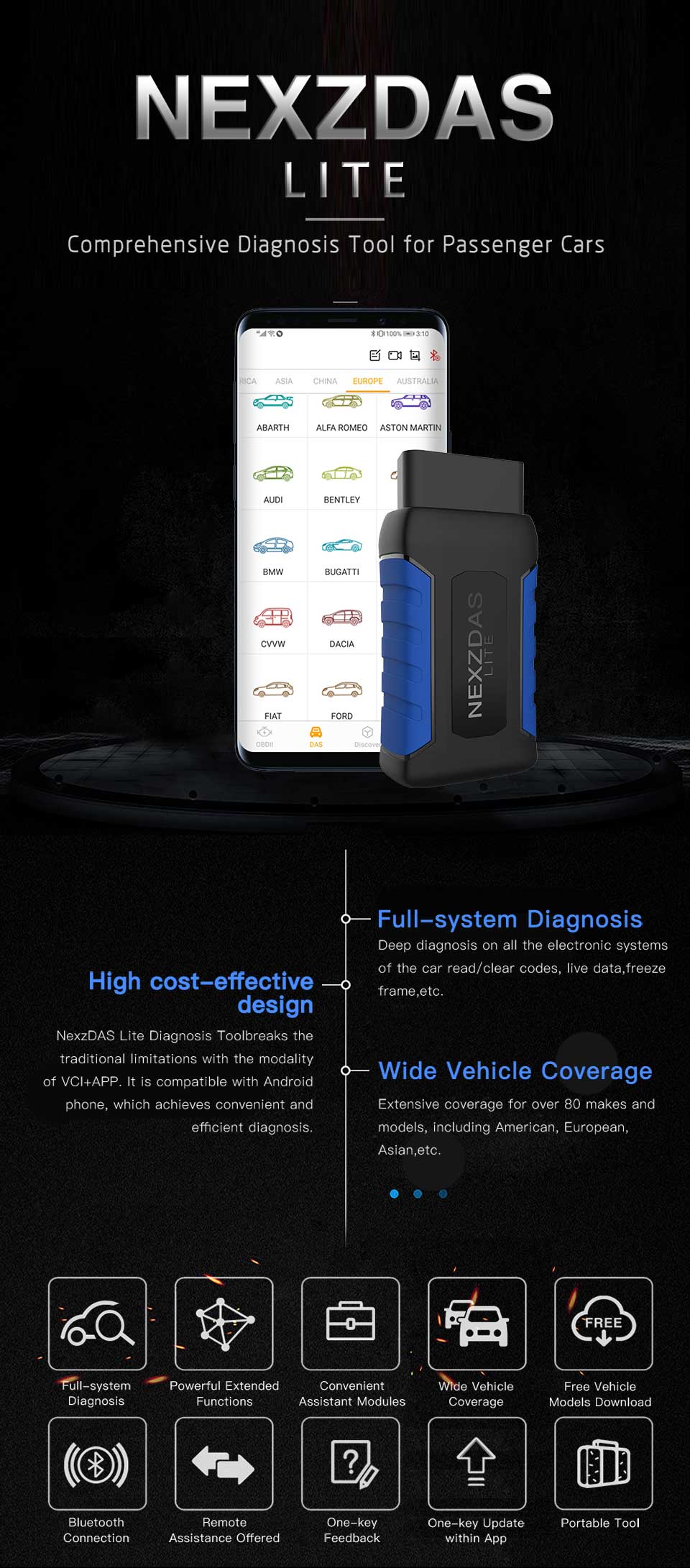 HUMZOR NexzDAS Lite Diagnostic Tool highlights:

1. High cost-effective configuration with VCI+App
2. Bluetooth 4.2 connection, Android phone available
3. Multi-model coverage for free download, Asia, Europe, America, etc. included
4. Full-system diagnosis, quick scan for all the electronic systems of the car
5. Professional diagnostic report offers you detailed inspection result for each DTC
6. Customized special function provided for extra demand, such as Oil reset, ABS, TPMS, EPB, etc
7. Powerful database supports online DTC inquiry
8. Intelligent operation, one key record/ feedback/ update within App
9. Language: English, Chinese (More language will be added)
10. Update:
Free update online for 1 year. Then the next update is 50 usd per year.
Vehicle Coverage(Download 170+ models for free in App Store)

American: GM, GMC, CHEVROLET, BUICK, HUMMER, SATURN, PONTIAC, CADILLAC, OLDSMOBILE, ASIAGM, FORD (EUROPE), FORD (AMERICA), Ford, Mercury, Lincoln, FORD (AUSTRALIA), MAZDA, CHRYSLER, JEEP, SCION,ACURA

European: VW, CVVW, AUDI, SEAT, SKODA, Bently, BUGATTI, LAMBORGHINI, BENZ, Smart, MAYBACH, BWM, MINI, ROLLS ROYCE, PORSCHE, PEUGEOT, CITROEN, OPEL, VAUXHALL, Renault, Dacia, Renault Samsung, JAGUAR, LANDROVER, SAAB, VOLVO, FIAT, LANCIA, ALFA ROMEO, ABARTH, ASTON MARTIN, FERRARI, MASERATI

Asian:TOYOTA, LEXUS, HONDA, Nissan, Infiniti, MITSUBISHI, SUBARU, SUZUKI, ISUZU, FUSO, HYUNDAI, KIA, DAEWOO, SSANGYONG, PERODUA, PROTON, TATA, Mahindra, Maruti
Chinese: BYD, CHANGAN, CHANGHE, FOTON, GWM, HBSH, HUACHEN, WULING, CHERY, EMGRAND, ENGLON, GEELY, GLEAGLE, LIFAN, YUAN, RIICH, ZOTYE
Function Display:

(1) OBD Diagnosis (Basic Function)
Comprehensive diagnostic modes and analysis
Read Code
Clear Code
Live Data
Freeze Frame
Smog Check
O2 Sensor
Mode 6
MIL Status
Vehicle Information
Battery Test
(2) Diagnostic Functions
*Quick Scan Read and clear codes for the whole electronic systems. For each DTC, a report can be generated, greatly increase the diagnostic efficiency.
*Action Test : Carrying out tests on some components of the vehicle,such as test Headlights, rear mirrors, seats,injector,volume of the sound, water temperature meter etc .(except for Ford)
*Data List

(4) Auxiliary Functions
*One-Key DTC Query:
nearly 4W database available for you to search code definition and description.

*One-Key Data Manage:
check the stored information at anytime and anywhere, both images and videos.

*One-Key Car Inquire:
search the car information online. Input the VIN or scan it directly.

*One-Key Feedback:
Multi methods to contact us and feedback your questions by clicking the button at the top right corner.

*One-Key Update:
Get new version upgrade information in time and choose to update it at fast speed within App.
Package List:
1 pc x HUMZOR NexzDAS Lite Diagnostic Tool
1 pc x User's Guide
お問い合わせ
何か質問があれば、 お気軽にお知らせください。
Live Support:
オンラインチャット
E-Mail:
sales@jobdii.jp
Skype:
jobdii.jp
ご注意ください:
製品を安全に送るために、電話番号が必要です。ご注文する時、電話番号を教えてください。
また、製品が無事に保証するため、パッケージに署名する前に、損傷があるかどうかを二重にチェックしてください。
もし、商品は損傷があれば、損傷を受けた証拠を開いてください。
Attention:

please leave your telephone number for shipping arrival when you make payment for this product on our website.